Behaviour change on Public Pages
We've recently made a change to Public Pages behaviour and we wanted to notify you. The change affects the way tabs and widgets are displayed. A few months ago, we added the possibility to have "transparent" widgets. Making a widget transparent means that you can see the background image through the widget (unless the widget forces a color).
With the recent update, we are going further by hiding completely the widget title, making your Public page look even better to your visitors.
The same kind of change has been applied to the tabs: when there is only one tab, the whole navigation is hidden.
Please note that these changes only apply to your Public Page as your visitors see it. If you're logged in, you will still see the titles and the tabs.
Share on Netvibes with Shareaholic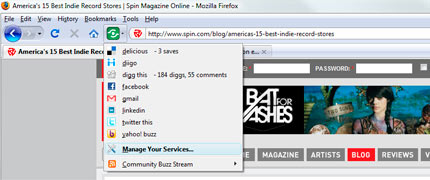 On another topic, we're happy to announce that you can now share links from all over the Web with your Netvibes contacts thanks to the Shareaholic browser extension. Shareaholic is one of the most popular sharing tool and is available for most browsers. Go to http://www.shareaholic.com/ to check this extension out!